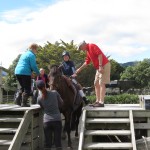 The Kapiti Vaulting & Equestrian clubs aim is to provide a safe, friendly and secure environment where we can provide the opportunity for disabled and special needs riders to build confidence, independence and a feeling of well being through therapeutic horse riding and close interaction with the horses.
Special courses are run on a Tuesday and Thursday. The programmes vary to suit the various levels of disabilities with a range of exercises, not only on the horses but also on our range of equipment, and using props etc. all designed to build confidence and strength.
The courses are designed for the young as well as adults whose disabilities may limit their enjoyment & quality of life.
As part of the program participants may also spend time learning and understanding the skills associated with the care of the horses. This gives the participants are real sense of achievement as the interaction with horses is always mutually enjoyed.
HOW DOES EQUINE THERAPY ASSIST? Equine assisted therapy and rehabilitation has proven over 30 years or more that incredible benefits can be gained for those who may suffer from cerebral palsy, spina bifida, paraplegia, multiple sclerosis, and strokes, have intellectual disabilities, visual or hearing impairment and even learning disabilities. The use of horses as a mode of movement under the rider basically simulates that of walking and thus stimulates the same muscle groups required for walking, standing and sitting in an upright position. The gait and cadence of the horse provides a slow,rhythmic and repetitive motion that mimics that of human reciprocal gait patterns that children & adults with disabilities lack.
The requirement to simply sit and hold the vaulting girth arms on the back of a moving horse in itself helps strengthen the various muscle groups and develops balance and co-ordination and most importantly can compliment other treatment regimes that the participants may be involved with.
CONFIDENCE · INDEPENDENCE · WELL BEING · SELF ESTEEM
VOLUNTEERS:
We are always seeking volunteers to assist, You don't have to be a horses enthusiast or indeed have any special knowledge about disabilities, you just need to care about people and want to make a difference to others lives.  You would be mainly walking  beside the horses to prevent riders falling, sometimes leading the horses, therefore being moderately fit is a help.  So if you feel you could help for a couple of hours on either of the days Tuesdays or Thursdays…..give us a call we'd love to meet you.
Tel: 04 9026108